Senior Health and Wellness: How We Promote Active Senior Living
Aging Well: Respecting a Life of Accomplishment and the Wisdom It Brings
Aging is a normal part of life that is to be celebrated. To best understand this, think about all that you know today, as a senior, that you didn't know when you were 25. Your wisdom is nothing short of profound. Around the globe, cultures and societies have a myriad of unique ways to celebrate and respect their aging seniors, or elders if you will.
If you're Korean, then you already know that filial piety, referred to as "hyodo" in Korean, loosely defined as supporting, serving and honoring one's parents, is considered a duty of all Koreans. 'Order' in a family is akin to order in the nation, thus as the family goes, so goes the nation, so filial piety is quite important in Korean culture.
In India, the elders of the family are the most respected, and as the head of the family they are honored for the wisdom they possess and their stature within the family lineage. Elders are sought out for advice on matters big and small, and are often the deciding voice in a dispute. And as aging seniors in Indian culture tend to live with the family at large, communally, they typically have a strong hand in raising grandchildren and keeping the family stable.
These are but two of the many examples of how aging seniors are given the respect they deserve in their culture, country, and family units, and honored for all the wisdom they possess. Because if you've lived, you've learned, and all that you know is valuable. And sharing it with others is a generous gift. So, yes, aging is to be celebrated, and every culture around the globe, including American, understands this.
The Mental & the Physical: Aging Challenges & Aging Well
But while your life and learned experiences, successes and failures, are valuable, and your mental wisdom accrued through the journey has strengthened through the decades, there's no denying that the aging process can challenge and test one's physical body. Your internal and external organs have to work harder and in general need more maintenance, better nutrition, and regular exercise.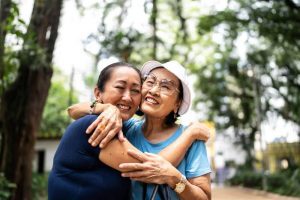 As we age, the heart has to work harder to pump blood. Your skin may lose fat content and become thinner, and the production of oils that protect that skin will decrease. Bones can become brittle. Your eyesight performance may decrease. Your hearing may decrease, especially with the higher frequencies. Or you may develop ambulatory issues, sexual problems, etc. But, it should be noted, not every senior will experience them all, and some seniors may experience only a few! It depends a lot on genetics, diet, exercise, and the power of a positive mindset. There's simply no way to be 25 again physically, though you are undoubtedly far wiser, but you can always make changes that will improve your physical and mental performance, to meet the challenges of the aging process head on, which can decrease your risks for many diseases, and keep your body running to the best of its ability.
Yes, an active senior living lifestyle designed with assistance from our trained community team members can truly take you to a higher level of fitness. Like a sweet, classic '57 Chevy, you've got to keep it tuned up, and drive it often, or it just won't perform as well as it should.  So, get out there and work your body, challenge your mind; active senior living is good living!
Health & Wellness, The Pavilion at Great Hills Way
There's no denying that senior health and wellness should be a top priority for everyone, for seniors themselves, but also the extended family members who love and cherish them for not only their wisdom, but for the love and support they've provided us, all through the years. That's why, here at The Pavilion at Great Hills, we believe your good health and wellness is paramount, and we're committed to helping you achieve your health and wellness goals.
In fact, our entire wellness philosophy at The Pavilion at Great Hills is a complete approach to health and wellness that incorporates the four components: the physical, social, intellectual, and spiritual elements of life within each of us.
Physical
Fitness programs that keep your body performing at its highest level, acknowledging that everyone's unique, and on their own path. Our programs meet you where you are and challenge you to rise for good health, so you feel great and can decrease your risks for disease.
Social
It isn't possible to achieve your best mental health without a healthy social life. As such, our active senior living programs, events, outings, games, and more are designed to keep you active socially, which in turn keeps you more physically healthy.
Intellectual
Our signature programs were created with the goal of challenging the mind to increase cognitive abilities. Through learning, exploring, creating, and socializing, our wellness programs keep active minds stimulated, for fun, and better senior health and wellness.
Spiritual
We believe that the spiritual element of who we are as humans is a crucial part of life. We respect your individual faith and we work to support you by enabling service opportunities and faith-based events that align with your faith, which many seniors consistently state gives them a greater sense of purpose and instills those happy feelings in regard to achievement, and their contributions—in 'giving back' to the community.
At The Pavilion at Great Hills we're committed to the goal of promoting a healthy, active senior living lifestyle for all residents and we push ourselves to expand boundaries and never rest on our laurels, continually working to ensure that our signature wellness programs and health services are unrivaled.
And we have complete health and wellness programs for residents living with dementia, that challenge the brain, help lower risks for disease, and dramatically increase social engagement. Our Valeo Signature Programs seek to awaken the spirit by challenging minds. Read more about our science-based programs here and see the brief descriptions below.
Create & Compose

Create and Compose programs allow residents to push their creativity through the arts, for the benefit of boosting cognitive functioning, as well as for relaxation and fun.
Legacy Kit

Legacy Kit invites family members to gather up mementos and treasured photos that'll provide residents with opportunities to share important family stories.
Travel Times

Travel Times delivers good times and brain stimulation via travel to new, as well as familiar, destinations to lower anxiety and increase happiness.
Creature Comforts

Creature Comforts provides residents an opportunity to interact with kind animals such as dogs and birds in a controlled environment, to connect emotionally, and remember beloved pets from their past.
VITA!
Our VITA! program is a multi-tiered approach to good health which incorporates exercise, brain teasers, and daily challenges that provide joy, a sense of achievement, and wellness.
We Promote Active Senior Living, and It's Fun!
An active senior living lifestyle must include fitness, and at The Pavilion at Great Hills, we strive to be the best in that regard. We continually review our wellness and overall fitness programs and facilities to ensure we exceed expectations and outshine most other senior communities.
When you're active, and your body's moving and staying healthy, you'll be able to enjoy all the things in life you love with greater ease. Therefore, we provide a wealth of exercise classes that every resident can enjoy and participate in, regardless of where they are on their health journey.
We have it all… from personalized training sessions with professional fitness trainers, to our walking club, group fitness classes, mindful meditation, games and billiards, rehabilitation, yoga, and much more. Never bored, you'll enjoy ample opportunities to improve your health, fitness, and well-being here at The Pavilion at Great Hills.
Our team is 100% in support of you every step of the way, and you can rest assured, even when you're staying active and NOT resting, that senior health and wellness is our top priority here at The Pavilion at Great Hills. Schedule a tour today!
---
Posted on: