Join a team that cares.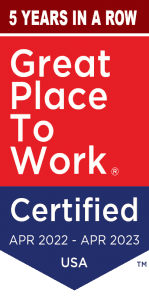 Solvere Living is committed to achieving success at The Pavilion at Great Hills. We are always interested in expanding our expert team of assisted living and memory care individuals.
At The Pavilion, team members are encouraged to really get to know each resident and to share personal interests with them. The bond that our team and residents share create a positive environment that contributes to our success in monitoring residents' well-being.
Solvere Living MVP Program
We want to celebrate those that contribute to our Austin, Texas, community by going above and beyond! The Solvere MVP – Mission Values Purpose – Program does just that. We want to acknowledge those that embody our core values and make a difference.
Solvere Living Receives Certification from Great Place to Work for Fourth Consecutive Year
Team members agree that their jobs hold special meaning and they can make a difference at Solvere, and people feel welcomed when they join a Solvere community.
Submit your resume by clicking the button below.