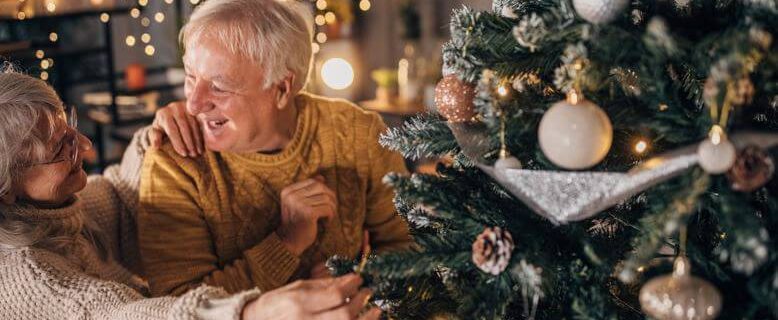 Creating a Cozy and Festive Atmosphere for Seniors at The Pavilion at Great Hills in Austin, Texas
The holiday season is a special time of year when we come together to celebrate with loved ones, exchange gifts, and create cherished memories. At The Pavilion at Great Hills in Austin, Texas, we believe that every resident should have the opportunity to experience the magic of the holidays in a warm and festive atmosphere. In this blog post, we will explore creative and heartwarming ways to decorate our community spaces and individual living areas to ensure that our seniors enjoy a joyful and cozy holiday season. Whether you're a resident, a family member, or a team member, we hope these ideas inspire you to spread holiday cheer!
Embracing the Holiday Spirit
Before we dive into decorating tips, let's take a moment to embrace the true spirit of the holiday season. For seniors at The Pavilion at Great Hills, this is a time to reflect on cherished memories, connect with others, and create new traditions. Encourage residents to share their favorite holiday stories and traditions and involve them in the planning process. Their input and enthusiasm can make the holiday decorations even more meaningful.
Deck the Halls with Safety in Mind
When decorating for the holidays in a community, safety should always be a top priority. Here are some essential safety tips to keep in mind:
Avoid tripping hazards: Ensure that all decorations, wires, and cords are securely fastened and out of walkways to prevent accidents.
Use flameless candles: Instead of traditional candles, opt for flameless LED candles to eliminate fire hazards while still creating a cozy atmosphere.
Secure decorations: Use removable adhesive hooks and clips to hang decorations safely without damaging walls or surfaces.
Common Area Decorations
Now, let's focus on decorating the common areas of The Pavilion at Great Hills. These spaces serve as the heart of our community, and they should be filled with holiday spirit. Here are some ideas to consider:
Festive wreaths: Hang colorful wreaths on the doors and walls of common areas. You can even involve residents in making their own wreaths during craft sessions.
Holiday-themed centerpieces: Decorate dining tables and communal spaces with beautiful centerpieces featuring seasonal flowers, ornaments, and twinkling lights.
Cozy seating areas: Arrange comfortable seating areas with holiday-themed throw pillows and blankets, creating inviting spots for residents to gather and share stories.
Musical ambiance: Play soft, soothing holiday music in the background to enhance the festive atmosphere.
Individual Living Spaces
While common areas are important, individual living spaces should not be overlooked. Personalizing these areas can make seniors feel truly at home during the holidays:
Door decorations: Encourage residents to decorate their apartment doors with festive wreaths, personalized signs, or holiday-themed door hangers.
Window displays: Adorn windows with holiday decals or window clings to add a touch of magic to residents' views.
Tabletop decor: Provide residents with holiday-themed table runners, placemats, and centerpieces to spruce up their dining areas.
Personalized stockings: Hang stockings on residents' doors or mantels, and consider hosting a stocking decorating activity.
Interactive Decorating Activities
To make the holiday decorating experience even more enjoyable, organize interactive activities that engage residents and promote a sense of community:
Ornament decorating: Host ornament decorating sessions where residents can create their own unique holiday ornaments to hang on communal trees.
Gingerbread house competition: Organize a gingerbread house decorating competition, complete with judging and prizes.
Holiday lights tour: Arrange a trip for residents to enjoy the beautiful holiday lights and displays in the Austin area. Don't forget to bring hot cocoa!
Celebrating Special Days
The holiday season is filled with special days, each with its own traditions and significance. Plan activities and decorations for these occasions:
Hanukkah: Decorate with menorahs, dreidels, and blue and white decorations to celebrate the Festival of Lights.
Christmas: Set up a beautifully decorated Christmas tree and host a festive gift exchange.
New Year's Eve: Organize a glamorous New Year's Eve party with sparkling decorations and a countdown to midnight.
At The Pavilion at Great Hills, we are committed to ensuring that our seniors have a holiday season filled with warmth, joy, and meaningful connections. By following these decorating ideas and safety tips, we can create a cozy and festive atmosphere that brings smiles to the faces of our residents and their families. Together, we can make this holiday season one to remember, filled with love, laughter, and the magic of the holidays.
If you're considering senior living in Austin, Texas Living, we highly recommend exploring what The Pavilion at Great Hills has to offer. Schedule a personalized tour to experience the community firsthand and speak with team members who are dedicated to ensuring your comfort, well-being, and happiness.
---
Posted on: